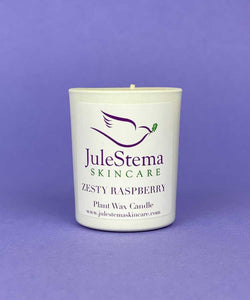 JuleStema Energise votive candle is scented with the fragrance of Raspberry and Quince. It has an exquisite scent mixing the ripe sharp taste of fresh Raspberries and the strong sweet perfumed Quince. A fresh clean fragrance that will lift any room in the home.
To use this candle for massage, and to ensure ultimate relaxation and safety, we recommend it to be used by a qualified massage therapist.

Directions of Use:
Before lighting, ensure the candle is clear of all obstructions, on a non flammable level surface, and in a room free of all drafts.
You can now light the candle, which should be allowed to burn for around one hour, prior to treatment. This should not be left unattended and should remain in sight during this time.
After one hour burn time, your oil pool should now be enough to use during treatment. Take your candle glass by the base, and into the other cupped hand, pour a pool of oil, amounting to the size of a two pence piece.
After putting the candle back on your safe surface, rub both hands together and massage into the skin keeping the warm wax oil moving. This will keep the wax from re-setting and give you enough moisture to glide smoothly over the skin.