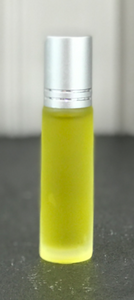 Roller balls help infuse products directly into the skin with more accuracy. The level of spillage is vastly reduced & limits overuse of a product. Roller balls help preserve essentials oils & should be stoped in a dark/ cool area to make the products much more durable.
Jojoba oil benefit is that it plays the role of sebum and moisturises our skin and hair.
Rosemary Essential Oil focuses on improving neurological function It increases blood flow to the brain, increases energy levels creating the ability to concentrate for longer periods of time.
Lemongrass Essential Oil benefit is its skin healing properties.
Peppermint Essential Oil has an invigorating fragrance which helps improve mental focus & memory. it also supports the respiratory staten & improves function of the nervous system.
Instructions - Roll onto your pulse points (wrists, temples and behind the ears). Breathe in through your nose and out through your mouth. Repeat 3 times.
Ingredients -Simmondsia chinensis (Jojoba) Seed Oil, Rosmarinus officinalis (Rosemary) Oil, Citrus limonium (Lemongrass) Oil Mentha piperita (Peppermint) Oil