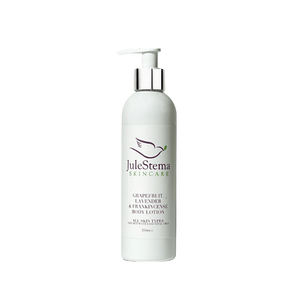 Moisturising the body can help keep skin supple, hydrated - promoting a more youthful looking skin.
Shea butter h-as high amount of natural vitamins & essential fatty acids resulting in a deeply nourishing moisturiser -it locks in moisture keeping skin hydrated for longer without clogging the pores.
Grapefruit has the highest amount of vitamin C which is a powerful antioxidant & a vital component in the production of collagen therefore can detox & brighten the skin. Lavender speeds up healing & formation of scar tissue & promotes cell regeneration /growth.
Frankincense has a soothing balsamic aroma which helps reduce stress & balance hormones.
Instructions - Apply all over and allow a few moment to dry. Take a generous amount this light lotion into your palm and massage gently into your skin allowing the blend of organic essential oils to absorb deeply and nourish the skin.
Ingredients - Aqua, Helianthus Annuus, Seed Oil (Sunflower), Butyrospermum Parkii Butter (Shea Butter), Theobroma Cacao Seed Butter (Cocoa), Glyceryl Stearate, Cetearyl Alcohol, Glycerin, Olea Europaea Fruit Oil (Olive), Linum Usitatissimum Seed Oil (Linseed), Sucrose Stearate, Sodium Stearoyl Glutamate, Aloe Barbadensis Leaf Juice Powder, (Aloe Vera) Coco Glucoside, Coconut Alcohol, Tocopherol, Xanthan Gum, Lactic Acid, Dehydroacetic Acid, Benzyl Alcohol, Citrus Grandis (Grapefruit Essential Oil), Olibantum (Frankincense Essential Oil), Lavandula Angustifolia (Lavender Essential Oil).