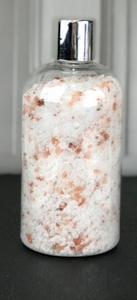 Bath Salts enable the muscles & nerves to function properly, flushing out toxins & impurities from the skin.
Himalayan salt detoxifies & balance systemic PH whilst providing a high amount of essential minerals.
Lemongrass is an effective cleansers for all skin types , improving skin tone and radiance.
Instructions - While your bath is running add a small handful of bath salts into the water flow to help increase the speed in which they dissolve, once you have added the salts agitate the water to ensure they have fully dissolved. Closing the bathroom door will help keep the fragrances in the confined space and increase their intensity.
Ingredients: Magnesium Sulfate (Epsom Salts), Sodium Chloride (Himalayan Pink Salts), Maris Sal (Coarse Sea Salts), Cymbopogon Schoenanthus Oil (Lemongrass Essential Oil)