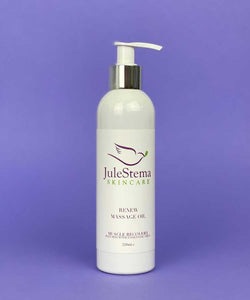 Massage oils help give a smooth glide & easy workability against the skins surface. Secondary benefits include skin nourishment & they act as a base/ carrier oil to infuse more potent oils into the body without irritating the skin.
Eucalyptus oil is beneficial for muscle pain, insect bites & skin irritations. the menthol fragrance is also helps the sinuses.
Rose hip oil has inflammatory benefits for the skin so can reduce redness as well as therapeutic quality to relax the mind & soothe female hormone related issues.
Instructions - Pour a small amount of oil in your palm, rub your palms together the generate heat before applying then massage the oil into the skin, apply more oil when skin becomes dry and generates friction.
Ingredients - Helianthus Annuus (Sunflower) Seed Oil, Vitis Vinifera (Grapeseed Oil), Tocopherol (Vit E Oil) Eucalyptus Globulus Leaf Oil (Eucalyptus Oil), Rosmarinus Officinalis Leaf Oil (Rosemary Oil), Cinnamomum Camphora Bark Oil (Camphor Oil), Piper Nigrum Fruit Oil (Black Pepper Oil)Limonene, Linalool, Citronellol,Geraniol, Citral, Coumarin.