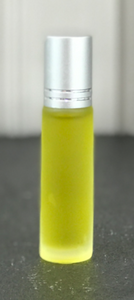 Roller balls help infuse products directly into the skin with more accuracy. The level of spillage is vastly reduced & limits overuse of a product. Roller balls help preserve essentials oils & should be stoped in a dark/ cool area to make the products much more durable.
The root chakra is located at the base of the spine & is associated with the adrenal glands, bladder, kidneys, lower back & spine. This roller ball will help you feel grounded, secure & at ease.
Root chakra imbalances include - insecurity, aggressiveness, sexual dysfunction, fatigue, back pain, constipation, eating disorders, anger & restlessness.
Jojoba oil benefit is that it plays the role of sebum and moisturises our skin and hair.
Ylang Ylang Essential Oil is used to promote relaxation, kill bacteria, lower high blood pressure, and increase sexual desire.
Patchouli Essential Oil can be attributed to its properties as an antidepressant, anti-inflammatory., antiseptic, aphrodisiac.
Cinnamon Leaf Essential Oil is used to Decreases inflammation and Increases circulation.
Instructions - Roll onto your pulse points (wrists, temples and behind the ears). Breathe in through your nose and out through your mouth. Repeat 3 times.
Ingredients -Simmondsia chinensis (Jojoba) Seed Oil, Cananga Odorata Flower (ylang yland) Oil, Pogostemon Cablin Oil (Patchouli Essential Oil)Cinnamomum Zeylanicum Leaf Oil (Cinnamon Leaf Essential Oil)