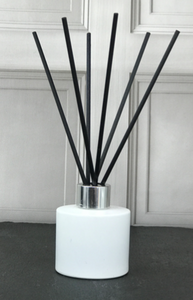 The Rose famously known as the most romantic of flowers, is used by many as a symbol of love and devotion. The White Rose in particular, symbolises purity and youth, and the flower, much like its scent, is hard to find. With its rich fragrance, infused with dashes of freshly cut grass and Myrrh, our Reed Diffuser will fill your room with a fresh, floral air.

All reed diffusers purchased contain both the oil and reeds

Instructions - remove inner cap and place the reeds into the oils after a few days turn your reed to allow for maximum fragrance dispersion.
Ingredients -perfumers alcohol - fragrance oils