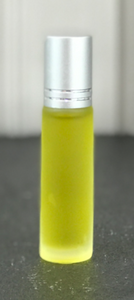 Roller balls help infuse products directly into the skin with more accuracy. The level of spillage is vastly reduced & limits overuse of a product. Roller balls help preserve essentials oils & should be stoped in a dark/ cool area to make the products much more durable.
The Solar Plexus Chakra is located behind the naval region, below the ribcage & associated with the stomach, liver, pancreas.This roller ball will help you feel energised, focused, empowered and in alignment within life.
Solar Plexus Imbalances include fatigue controlling behaviours, addictions, aggressiveness, anxiety impaired digestion, liver/spleen/issues & weight imbalances.
Jojoba oil benefit is that it plays the role of sebum and moisturises our skin and hair.
Rosemary Essential Oil beneficial in efforts to eliminate eczema, dermatitis, oily skin, and acne.
Neroli Essential Oil is great for Acne-Prone Skin: Although neroli has rejuvenating and regenerating benefits for every skin type, its antibacterial, anti-inflammatory and antiseptic properties make it ideal for oily and blemished skin.
Instructions - Roll onto your pulse points (wrists, temples and behind the ears). Breathe in through your nose and out through your mouth. Repeat 3 times.
Ingredients -Simmondsia chinensis (Jojoba) Seed Oil, Rosmarinus officinalis (Rosemary) Oil, Citrus aurantium (Neroli) Oil