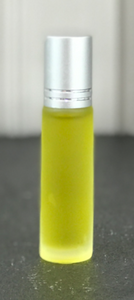 Roller balls help infuse products directly into the skin with more accuracy. The level of spillage is vastly reduced & limits overuse of a product. Roller balls help preserve essentials oils & should be stoped in a dark/ cool area to make the products much more durable.
The crown chakra is located on the crown of the head and is associated with the brain, nervous system and spirituality. This roller ball will help you well feel balanced and more at peace with life in general.
The crown chakra imbalances include depression, migraine's/ chronic headaches, neurological & endocrine disorders, sensitivity light & sound.
Jojoba oil benefit is that it plays the role of sebum and moisturises our skin and hair.
Jasmine Essential Oil is a popular natural remedy for improving mood, overcoming stress and balancing hormones.
Lavender Essential Oil has an ability to eliminate nervous tension, relieve pain.
Instructions - Roll onto your pulse points (wrists, temples and behind the ears). Breathe in through your nose and out through your mouth. Repeat 3 times.
Ingredients -Simmondsia chinensis (Jojoba) Seed Oil, Jasminum Officinale (Jasmine) Extract, Lavandula angustofolia (Lavender) Oil