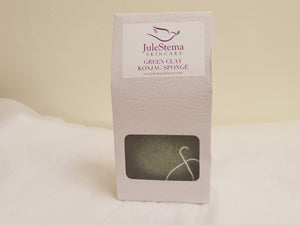 Our green Konjac is made with french clay and is suitable for oily to combination skin.
We think its the perfect facial sponge for those of you who have combination or oily t-zone skin.
 Our Konjac Sponge uses the benefits of French Green Clay to tighten your pores, tone your complexion and revitalises your damaged skin cells.
Blended with the finest French Clay this naturally draws out impurities and toxins, to reveal a smoother, fresher complexion.

Approximately 8cm wide, it fits perfectly in the palm of your hand. Just add water for the ultimate in natural skin care.
Certified Vegan & Cruelty Free
Gently exfoliates
Deeply cleanses
Refines pores
Cleanses and exfoliates the delicate eye area
Removes water based make-up
Suitable for sensitive skin
100% natural, colouring & additive free
Ideal for oily, teenage & blemish-prone skin
Kinder alternative to a muslin or flannel
Use with or without cleanser
pH Balanced and Kind to Skin