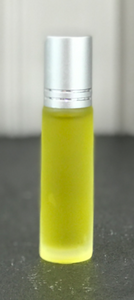 Roller balls help infuse products directly into the skin with more accuracy. The level of spillage is vastly reduced & limits overuse of a product. Roller balls help preserve essentials oils & should be stoped in a dark/ cool area to make the products much more durable.
Jojoba oil benefit is that it plays the role of sebum and moisturises our skin and hair.
Clary Sage Essential oil is effective in hormone balances. It can particularly help menstrual cycle regulation, cramps & hot flashes.
Sage Essential oil a powerful oil for the use of depression and grief.
Fennel Essential oil is a powerful aid in supporting the digestive, respiratory & excretory function & abnormalities.
Instructions - Roll onto your pulse points (wrists, temples and behind the ears). Breathe in through your nose and out through your mouth. Repeat 3 times.
Ingredients -Simmondsia chinensis (Jojoba) Seed Oil, Salvia sclarea (Clary Sage) Oil, Salvia Officinalis (sage oil) Oil, Foeniculum vulgare dulce (Fennel) Oil