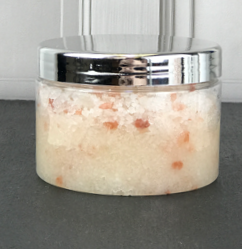 Body exfoliation is the removal of dry/dead skin cells improving the skins surface/texture. it also increases blood circulation resulting in a more radiant skin.
Lemongrass - Provides a temporary skin firming & lessens skin conditions such as folliculitis & cellulitis. Stimulates blood circulation & encourages a faster metabolism to help eliminate toxins/ water retention.
Bergamot - minimises acne scarring & can even out supply of melanin.
Himalayan salt - detoxifies & balance systemic PH whilst providing a high amount of essential minerals.
Instructions - Stir well before use. Massage into damp skin with circular motions moving from the décolletage lower. Allow time for the oils to absorb, rinse off, pat dry & finish off with one of the Body Butters. Can be used as preparation before applying fake tan, or simply for giving your skin a polish & re-fresh feel. Do not use more than three times in one week, in order to allow the skin time to rejuvenate.
Ingredients - Maris Sal (Coarse Marine Salt), Maris Sal (Fine Sea Salt), Maris Sal (Himalayan Salt ) Helianthus Annuus (Sunflower) Seed Oil, Vitis Vinifera (Grapeseed Oil), Tocopherol (Vit E Oil) Cymbopogon Schoenanthus (Lemongrass Essential Oil),Citrus Bergamia (Bergamot Essential Oil)