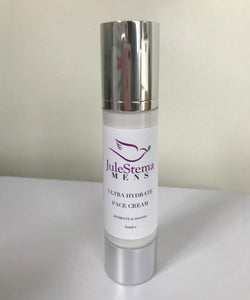 A good Night Cream will leave you waking up with soft and revitalised skin. It is no secret that beauty treatments are best off being done when the body is relaxed, allowing nutrients to be absorbed better. Thus, Night Cream can work whilst we sleep, nourishing, hydrating and moisturising the face.
With both Jasmine and Chamomile especially good for dry and sensitive skin, they work together to regenerate cells and combat inflammation. Jasmine, the 'King of Oils' instils the cream with its strong, romantic scent, whilst the medicinal herb Chamomile works its magic on helping us to relieve stress.

All you need to do is buy, apply, and the Cream will do the rest.
Please note this product comes in an airless system tube. There is no inner tube to bring the product up. Simply pump your container and the base inside the bottle will rise to bring the cream to the top. On some occasions considerable pumping needs to be carried out.
How to Apply: After cleansing your face and patting it dry, apply the Night Cream to your face and neck in upwards, circular motions.

Ingredients: Aqua, Aloe Barbadensis Leaf Juice, Borago Officinalis Seed Oil, Glycerin, Glyceryl Stearate, Cetearyl Alcohol Dimethicone, Stearic Acid, Magnesium Aluminum Silicate, Anthemis Nobilis Flower Extract, Lavandula angustifolia Flower Extract, Panax Ginseng Root Extract Symphytum officinale Root Extract, Sodium PCA, Tocopheryl Acetate, Alcohol Denat, Disodium EDTA Triethanolamine, Citric Acid, Phenoxyethanol Ethylhexyl glycerin.