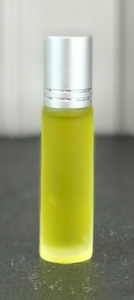 Roller balls help infuse products directly into the skin with more accuracy. The level of spillage is vastly reduced & limits overuse of a product. Roller balls help preserve essentials oils & should be stoped in a dark/ cool area to make the products much more durable.
Jojoba oil benefit is that it plays the role of sebum and moisturises our skin and hair.
Peppermint has an uplifting aroma which helps improve focus, & refreshes mentally & physically.
Clovebud is a powerful pain relief & can help alleviate sore & tired muscles, due containing potent anti-inflammatory benefits.
Wintergreen Essential Oil is commonly used to alleviate headaches, muscle cramps, joint pain, tendonitis & bone pain. It is a natural pain killing method.
Clove Bud Essential Oil relieves muscular aches, stiff joints, sprains, arthritis and rheumatism.
Instructions - Roll onto your pulse points (wrists, temples and behind the ears). Breathe in through your nose and out through your mouth. Repeat 3 times.
Ingredients -Simmondsia chinensis (Jojoba) Seed Oil, Mentha piperita (Peppermint) Oil, Gaultheria procumbens (Wintergreen) Leaf Oil, Euginia caryophyllata (Clovebud) Oil