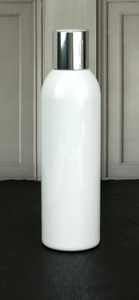 Frequent shampooing of the hair, is necessary as it helps open the hair follicle allowing properties to remove odours & dirt from both the hair & scalp. It also encourages hair conditioning ; which has many benefits within itself.
Sweet Orange Oil has the ability to remove excess oil from the hair without leaving the hair & scalp dry or dehydrated. It also adds extra glossiness to the hair strands.
Aloe vera contains proteolytic enzymes which help repair dead skin cells on the scalp improving scalp health
Lemongrass strengthens hair follicles and is most effective at treating dandruff due to its antimicrobial properties.
*free from silicones & sulphates
Instructions - Dampen your hair with lukewarm water. Add about half inch wide dollop of shampoo (about the volume of a hazelnut should be enough for short to medium long hair. Adjust this amount accordingly if you wear your hair long. Distribute the shampoo through your hair. Foam up the dollop of shampoo with a little water before massaging the foaming shampoo through your hair and over the scalp with circulating movements. Be sure not to scratch your scalp with your fingernails. Completely rinse the shampoo out of your hair using clear water. It is important to thoroughly rinse out all shampoo. Squeeze the hair with your hands during the rinse. The rinse is complete when your hair feels "squeaky" clean. Complete by using Hair Conditioner.
Ingredients - Aqua (Water), Decyl Glucoside, Lauryl Betaine, Xantham Gum, Phenoxyethanol, Aloe Barbadensis (Aloe Vera) Leaf Juice Powder, Citric Acid, Benzoic Acid Dehydroacetic Acid, Citrus aurantium dulcis (Sweet Orange Essential Oil), Cymbopogon schoenanthus Oil (Lavender Essential Oil)