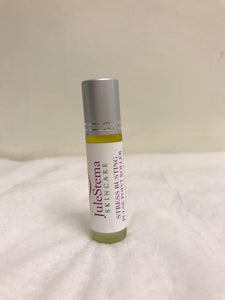 Roller balls help infuse products directly into the skin with more accuracy. The level of spillage is vastly reduced & limits overuse of a product. Roller balls help preserve essentials oils & should be stoped in a dark/ cool area to make the products much more durable.
Jojoba oil benefit is that it plays the role of sebum and moisturises our skin and hair.
Clary Sage Essential Oil helps to regulate sebum production, tones the skin as mild astringent, and reduces inflammation associated with acne. It also has anti-bacterial properties.
Lavender oil has a refreshing aroma which helps remove nervous exhaustion & restlessness whilst increasing mental activity.
Lemon Essential Oil can rejuvenate and gently cleanse skin as well as activate the mind.
Instructions - Roll onto your pulse points (wrists, temples and behind the ears). Breathe in through your nose and out through your mouth. Repeat 3 times.
Ingredients -Simmondsia chinensis (Jojoba) Seed Oil, Salvia sclarea (Clary Sage Oil)Lavandula angustofolia (Lavender Essential Oil) Citrus limonium (Lemon Essential Oil)