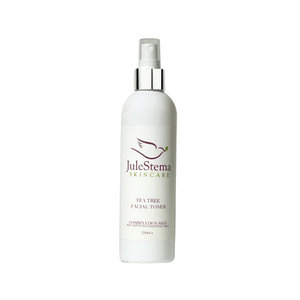 Tea Tree Flower Water Facial Toner Spritzer 250ml
PH balancing & detoxification of the skin, helps tighten & minimise pores, also picks up leftover traces after a cleanse.
Tea tree Removes excess oil without drying the skin, reduces congestion without irritating the skin due to its low toxicity as has antimicrobial activity towards a wide variety of bacteria - ideal for acne prone skins.
Instructions - Begin with washing your face with warm water and cleansing with Cleanser. Now apply the toner using a cotton pad and pat the toner gently over the whole face and neck area. Do not rub when applying a facial toner. Now follow with a Face Cream.
Ingredients - Aqua, Sodium Benzoate, Potassium Sorbate, Melaleuca Alternifolia Leaf Oil (Tea Tree Flower water), Citric Acid.