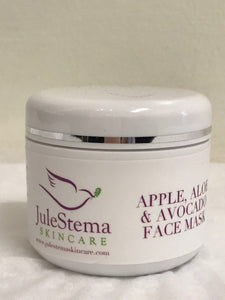 Kaolin clay masks contain high contents of silica which remove dead skin & promotes regeneration. They have detoxifying properties & ability to reduce congestion within the deeper layers of skin.
Apple is full of vitamin c, which makes collagen. Collagen is the main structure of the skin & source of elasticity & firmness within the skin.
Avocado contains essential fatty acids which keeps skin supple whilst reversing the signs of ageing.
Aloe Vera increases skins elasticity promoting healing & new cell growth.It also locks in moisture retaining hydration.
Instructions - For best results, gently apply the mask to your face, and leave on for around 15 minutes. Once the mask starts to crack, you can then wash off the clay with warm water and a soft cloth.
Ingredients - Aqua, Kaolin(Kaolin Clay), Bentonit(Bentonite Clay), Aloe Barbadensis Leaf Extract(Aloe Vera), Cetearyl Alcohol, Glycerin,Persea Gratissima Oil (Avocado Oil), Camellia Sinensis Leaf Extract(Camellia Senensis), Punica Granatum Fruit Extract (Pomegranate), Hydrolyzed Wheat Protein, Propylene Glycol, Alcohol denat, Diazolidinyl Urea, Citric Acid, Potassium Sorbate, Magnesium Nitrate, Magnesium Chloride, Methylchloroisothiazolinone, Methylisothiazolinone, Parfum, CI 77288.