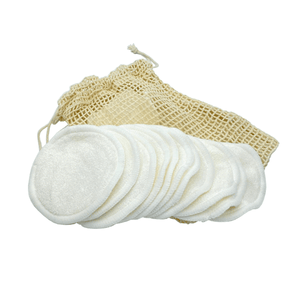 ECO-FRIENDLY COTTON PADS
Our eco friendly cotton pads product allows you to scale back your carbon footprint and waste by switching far away from single-use pads. Our cotton pads are 100% plastic-free and made from bamboo with cotton fibres.
If you are a regular user of facial cleansers, toners, masks, or scrubs it's a smart choice to grab a number of these eco-friendly cotton pads. They're washable, reusable, and reliable. Gentle when exfoliating the facial skin and great at reducing the occurrence of breakouts. Soft, reusable cotton pads to assist remove makeup delicately and thoroughly for clean and healthy skin.

BENEFITS
Easy to Wash

Scale back your carbon footprint

Every sale goes towards social projects